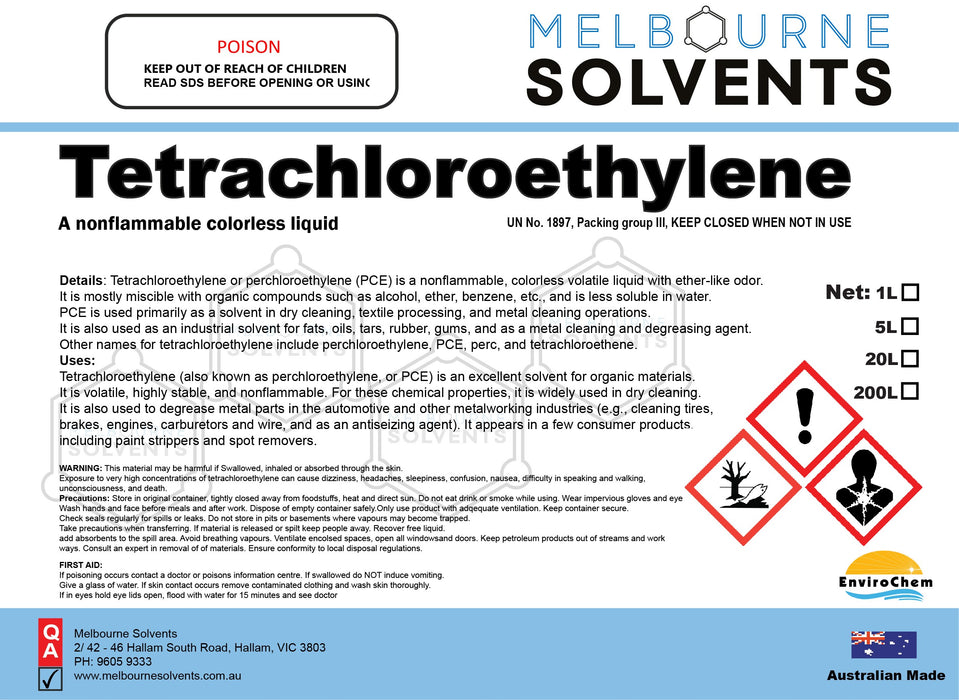 Tetrachloroethylene
Sale
Sale
Original price
$60.00
-
Original price
$90.00
Details: Tetrachloroethylene or perchloroethylene (PCE) is a nonflammable, colorless volatile liquid with ether-like odor.
It is mostly miscible with organic compounds such as alcohol, ether, benzene, etc., and is less soluble in water.
PCE is used primarily as a solvent in dry cleaning, textile processing, and metal cleaning operations.
It is also used as an industrial solvent for fats, oils, tars, rubber, gums, and as a metal cleaning and degreasing agent.
Other names for tetrachloroethylene include perchloroethylene, PCE, perc, and tetrachloroethene.
Uses:
Tetrachloroethylene (also known as perchloroethylene, or PCE) is an excellent solvent for organic materials.
It is volatile, highly stable, and nonflammable. For these chemical properties, it is widely used in dry cleaning.
It is also used to degrease metal parts in the automotive and other metalworking industries (e.g., cleaning tires,
brakes, engines, carburettors and wire, and as an antiseizing agent). It appears in a few consumer products,
including paint strippers and spot removers.