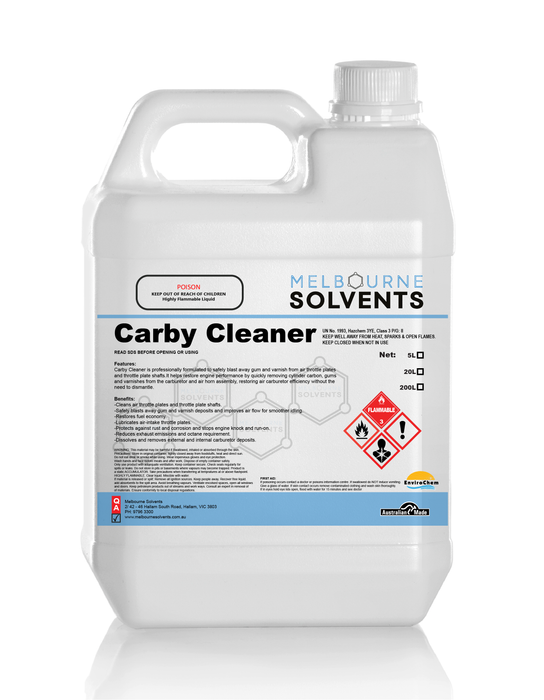 Carby Cleaner, Throttle Body Carburettor Cleaner
Sale
Sale
Original price
$45.00
-
Original price
$95.00
THROTTLE BODY & CARBY CLEANER is professionally formulated to safely blast away gum and varnish from air throttle plates and throttle plate shafts. It helps restore engine performance, by quickly removing cylinder carbon, gums and varnishes from the carburetor and air horn assembly, restoring carburetor efficiency without the need to dismantle.

Features:

A flammable solvent soluble in water, alcohol and other hydrocarbons.
Widely available with extensive on-hand information.

Benefits:
The Throttle Body & Carby Cleaner is professionally formulated to provide the following benefits:
• Cleans air throttle plates and throttle plate shafts.
• Safely blasts away gum and varnish deposits.
• Improves air flow for smoother idling.
• Restores fuel economy.
• Lubricates air-intake throttle plates.
• Protects against rust and corrosion.
• Stops engine knock and run-on.
• Reduces exhaust emissions and octane requirement.
• Dissolves and removes external and internal carburetor deposits.
• Restores proper carburetor operation and efficiency.
• Frees sticking automatic choke assemblies.
• Cleans positive crankcase ventilating valves.
• Assures proper air/fuel ratios.
• Eliminates engine surging, stalling and hesitation.
• Restores lost power.
• Contains no CFC's which have been proven to be harmful to the ozone layer.
• Safe for oxygen sensors and catalytic converters. Inhaled or absorbed through the skin.
Areas of use: Product to be used in well ventilated area, safety classes and protective gloves and clothing recommended to be worn
Keep out of reach of Children
Keep away from sources of ignition - No Smoking
Avoid Contact with eyes
Take precautionary measures against static discharges

WARNING:
This material may be harmful if Swallowed, inhaled or absorbed through the skin.
Precautions: Store in original container, tightly closed away from foodstuffs, heat and direct sun.
Do not eat drink or smoke while using. Wear impervious gloves and eye protection.
Wash hands and face before meals and after work. Dispose of empty container safely.
Only use product with adequate ventilation. Keep container secure. Check seals regularly for
spills or leaks. Do not store in pits or basements where vapours may become trapped. Product is
a static ACCUMULATOR. Take precautions when transferring at temperatures at or above flashpoint.
HIGHLY FLAMMABLE. Clear liquid. Miscible with water.
If material is released or spilt: Remove all ignition sources. Keep people away. Recover free liquid.
add absorbents to the spill area. Avoid breathing vapours. Ventilate enclosed spaces, open all windows
and doors. Keep petroleum products out of streams and work ways. Consult an expert in removal of
of materials. Ensure conformity to local disposal regulations.

FIRST AID:
If poisoning occurs contact a doctor or poisons information centre. If swallowed do NOT induce vomiting.
Give a glass of water. If skin contact occurs remove contaminated clothing and wash skin thoroughly.
If in eyes hold eye lids open, flood with water for 15 minutes and see doctor.


We accept orders online 24 hours-a-day, seven (7) days a week. Orders entered on www.melbournesolvents.com.au will then be processed (on authorised payment clearance) and shipped out from our South East Melbourne distribution centre. Orders placed Monday-Friday before 3 PM AEST will begin processing that day, excluding public holidays.
Orders placed after 4 PM AEST will begin processing the next business day. Orders placed on Friday after 4 PM AEST will begin processing on the following Monday. If the selected item is not currently available or if there are system errors, the Melbourne Solvents Customer Service team will contact you. All sale and discount items are excluded from this policy and are shipped out via first in, first out.

Delivery dates acknowledged by us are non-binding estimates only, based upon the best available information concerning manufacturer lead times and transportation schedules. Therefore orders may be shipped on the estimated date, prior to the estimated date with the buyer's approval or after the estimated date (after notification to the buyer). Estimated delivery dates will be considered as accepted by the buyer unless disagreement is notified to the Company in writing within seven days of order placement.